One Way To Grow – A Complete Nutrient Line in One Small Bag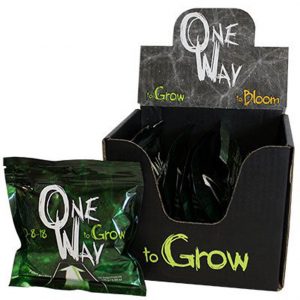 Growing plants in a soil-less environment requires a precise and complete offering of nutrients, additives, biostimulants, and other beneficial inputs for healthy plants and huge yields. With so many options available, it can be challenging to determine exactly what you need and when. What nutrient line makes the best potash additive? What bloom booster should I buy? Who has the best fulvic acid? Which beneficial should I get? Before you know it, you're sitting in your grow room with 15 different bottles from 10 different companies with a handful of measuring cups, beakers, droppers, and who knows what else trying to manufacture the perfect formula for your plants. What if you could condense everything your plants need into one small bag? What if you could take out the time and guesswork that comes with following a rigorous feed schedule with many different inputs? Now you can with One Way to Grow and One Way to Bloom! One Way to Grow and Bloom are completely water-soluble bags that contain multiple components, including all necessary nutrients, additives and bio-activators needed for a successful grow.
It's Extremely Easy-To-Use
One Way to Grow is used for vegetative growth and One Way to Bloom is used for….you guessed it! Bloom! Place one bag in your reservoir, then fill to 100 liters and just like that you will have a ready to use solution that needs no "ph adjustments or ppm measurements". Add bag, add water, mix, and grow. Sounds good to us!
What About Mid-Week Top Ups?
You can make One Way to Grow/Bloom concentrate by simple adding 1 bag to 2 liters of hot water. Stir the water until the bag dissolves and then store the concentrate solution in a sealed container until it's needed for mid-week top ups! Here is the corresponding mixing chart to illustrate milliliters vs ppms (click to enlarge)…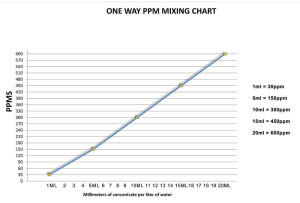 What's Actually In It?
Well, to save the time of typing out every ingredient listed in One Way to Grow, here is a handy chart that I found that explains everything that is contained within each bag (click to enlarge)…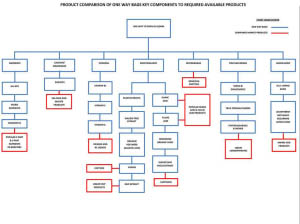 As you can see, that's a lot to fit into one little bag! It's got the full NPK, the biostimulants, the additives, the mycorrhizae, the humic acids, the vitamins, the enzymes…pretty much everything your plants need for a successful grow. On top of all that, it's the only formulation that can combine significant quantities of calcium and magnesium with phosphate…very nice!
How Does the Price Stack Up Against Other Nutrient Lines?
Well, let's look at one of the popular nutrient lines…General Hydroponics Flora Series. Here are the recommended dosage rates (click to enlarge)…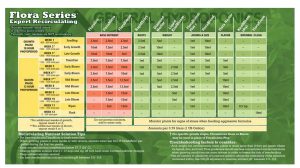 Looking at the average cost of these products, here's a breakdown of how much the entire line actually costs (click to enlarge)…

I spoke with the One Way to Grow manufacturer, and they said the average cost of running One Way to Grow/Bloom throughout an entire cycle is $191.88. Looking at that cost, that's approximately $16.00 per week for a 12 week cycle. The cost of one packet (2 bags) is about $35.00, so that breaks down to using just about one bag every week or 6 packages (2 bags in each package). If you purchase a case of each, you save $158.94 over 24 weeks compared to running the Flora Series from General Hydroponics. Additionally, if you don't change your water or nutrients that often, you will have extra One Way to Grow or Bloom bags which will result in more savings! If you're a consistent grower, you can see how you will save a lot of money over time with this product.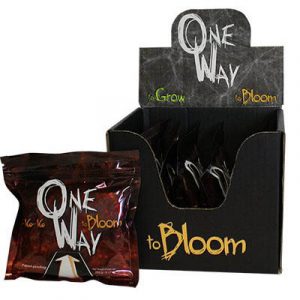 We were skeptical at first but One Way to Grow really does have everything you need. For growers who want an easy, yet highly effective nutrient program, this is it. When you look into the actual amounts on their website linked here, you can see that the concentrations are on point as well. This is a solid product that provides a complete nutrient program for you plants in an extremely easy-to-use method. Finally, the green side of us likes that it's 98% less waste, costs less to ship, requires less carbon to move, and is all around a very environmentally friendly product!
One Way to Grow is beautiful simplicity in a nutrient regiment. For gardeners of any skill level, one thing is certain, One Way to Grow and One Way to Bloom will give your plants everything they need from start to finish.
beneficials, bloom boosters, full npk, humic acids, nutrients, one part, one way, one way to bloom, one way to grow, two part