Description
Nutrifield Coco (A + B) – 1 Liter

Nutrifield's NF Coco is specifically engineered to get you optimum results in coco coir. All essential micro & macro nutrients are contained within to ensure your plants get what they need from start to finish.
Nutrifield base nutrients include each of the 13 essential elements with a number of beneficial and organic compounds. Their base nutrients have been specifically designed to deliver optimum yield and performance. Intensive research has led to the development of Nutrifield Coco Nutrients, which is specifically formulated for use with all coco coir growing media. Nutrifield base nutrients provide a complete growing solution for your hydroponic needs.
Just 1 set of NF Coco is used for vegetative growth and flowering. Extensive research went into developing this incredibly balanced, easy-to-use nutrient system.
Nutrifield Coco optimizes plant strength, drought tolerance and assists food uptake. Nutrifield Coco is high in calcium, which is an essential element for cell wall structure  and also aids in the retention and distribution of other essential elements such as potassium and calcium.  Nutrifield Coco also contains the essential amounts of suspended silica to help insulate against wilting and to improve drought tolerance. To help improve the nutrient and water uptake of your plants, Nutrifield Coco also contains humic and fulvic acids.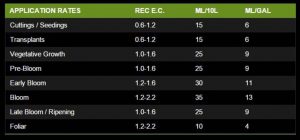 Nutrifield Coco A MSDS Sheet
Nutrifield Coco B MSDS Sheet