The Nutri-Plus Hydroponic Plant Nutrient Program Yields Results that Exceed Expectations – Part II
After succeeding with the essentials of the Nutri-Plus plant nutrient program (Grow AB, Bloom AB and Thrive), indoor gardening enthusiasts can push their plants and their beliefs to the limit by introducing a variety of magical foliar additives, powerful bloom-boosters and other essential plant growth supplements that exceed all expectations.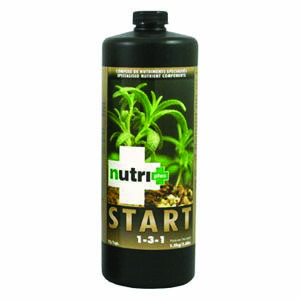 Propagation with Nutri-Plus includes Root Plus Rooting Gel and Nutri-Plus Start
In propagation and the first week of growth Nutri-Plus Start (1-3-1 with hormones) delivers the powerful kick start every solid plant nutrition program requires. Start is versatile additive that can be used to condition propagation media as well as a core plant nutrient for young cuttings in the first week of growth. Root Plus rooting gel was created specifically for the propagation of cuttings. This gel includes a delicate balance of growth hormones, B1 vitamins, amino acids and an organic antiseptic; these elements secure effective healing of the stem while supplying all essential nutrients and hormones for accelerated root development.
Fusion of Organic Acids and Mineral Nutrients in Nutri-Plus Black and Gold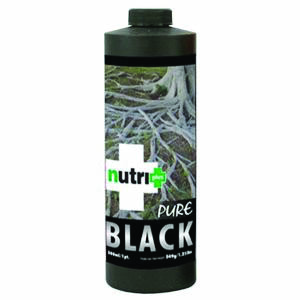 Throughout the first six weeks of plant development, Nutri-Plus Black provides a base of organic acids and minerals that optimize nutrient assimilation while vitalizing the root zone and fortifying the plant's immune system. During flowering Nutri-Plus Gold (0-2-1) accelerates nutrient translocation and absorption while providing a variety of trace elements and antioxidants that optimize sugar production in a foliar mist. As a huge innovation the team at Biofloral (Exclusive North American distributors of Nutri-Plus) reports that they are about to introduce a pair of game-changing new products: Pure Black and Pure Gold. These Nutri-Plus products are said to contain the highest percentage (almost 100 times greater than the nearest comparable) of the highest grade Humic and Fulvic acids available in indoor gardening today. Pure Black and Pure Gold are sure to set a new standard in organic acid plant supplements – to use with any plant nutrient program.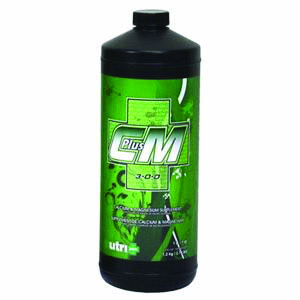 Nutri-Plus Foliar Supplements are Ideal Complements to a well-balanced Plant Nutrient Program
Nutri-Plus's unrivaled line-up of foliar plant supplements set a benchmark in hydroponic plant nutrient programs and provide immediate impact on your plants health and vitality – without affecting conductivity and pH levels in the res. For the first two weeks of development, complementing your plants nutrient program with a generous foliar dose of Nutri-Plus Green (1-1-1) will prevent early yellowing of leaves while providing young cuttings with a healthy broad-base mineral supplement that is easily absorbed by the leaves. For use at any stage of development, Nutri-Plus CM Plus (3-0-0) stands alone as a specialized foliar calcium and magnesium plant supplement. Most experienced growers understand and never underestimate the importance of calcium and magnesium as part of any complete plant development program. Many programs offer calcium and magnesium supplements, but few offer such a clean, and highly dissolved cal-mag supplement that can be used as a foliar spray and will be quickly absorbed by your plants.
Nutri-Plus is a favorite of ours at Web Hydroponics and we're happy to share the many benefits of this great line. Try it today!
-Web Hydroponics
cm plus, foliar sprays, nutri plus, nutri+, pure black, pure gold