Nutrient Notes: Organic Rescue Mist – Rapid Flower
When talking about Organic Rescue's products, you first must talk about foliar feeding. First, like most folks that talk about foliar feeding, we must first look at the past…

If you foliar feed, the names Dr. H.B. Turkey and Dr. S.H. Wittwer may ring a bell. In the 1950's, they used radioactive isotopes of known plant nutrients and ran a few experiments. They made some startling conclusions…
1. Foliar feeding provided approximately 95% nutrient uptake efficiency compared to only 10% from soil applications.
2. Plant nutrients moved at the rate of one foot per hour throughout all parts of the plant and could be found within the roots in less than an hour (depending on size of plant).
3. Foliar feeding stimulates nutrient uptake through the roots. After foliar feeding, the plants' leaves generate more carbohydrates that will be transported to the roots and released as exudates. More exudates equals more microbial life which means more available nutrients.
4. Speed of absorption. The absorption from foliar feeding was determined to be immediate, much faster than standard root nutrition.
5. No nutrient lockout. When foliar feeding, you can get essential trace minerals into your plant when sudden fluctuations in pH may be preventing maximum absorption.
F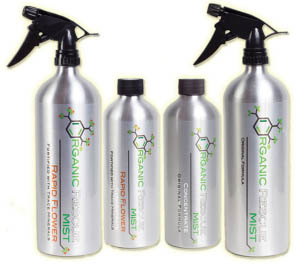 oliar Feeding is a great way to supplement any nutrient regiment you are currently using. Obvious questions are….Which foliar spray should I use? How often should I foliar feed? Will it actually help? I've heard foliar feeding is a waste of time from my brothers' friends' cousin, is that true?
Well, there's a very simple answer for all of those questions and it is…Organic Rescue Mist. They make easy to use foliar sprays in durable aluminum bottles that have helped our plants since the day we decided to start foliar feeding again.
Organic Rescue Mist – Rapid Flower
One of the most important ingredients in Organic Rescue products is high quality fulvic acid. According to the manufacturer, they use "31% concentrated fulvic acid", which is better quality than we've been able to find in any standalone fulvic product. That's pretty awesome to start. As far as the "proprietary formula to ease your plants transition into flowering" I was assured it is "a combination of essential trace minerals that have been researched for decades in the commercial agriculture business to increase flowering quality and abundance." With a WSDA organic certification, there's no reason not to believe that this is a quality product made with the best ingredients nature has to offer. WSDA is the gold standard in organic certifications and they have a pretty rigorous registration process to get certified.
Fulvic Acid is nature's most powerful organic chelator. Because of its small molecular size, it has the ability to increase efficiency in foliar feeding. It is easily absorbed through a plants' stomata (and the entire plant, for that matter) and since it can 'claw' essential nutrients that may not be easily absorbed, those nutrients piggy back on fulvic acid into plants in a much more efficient way. Because it's nature's most powerful organic chelator, having it as an ingredient in a nutrient is a very good thing because it increases the efficiency and absorption of the essential trace minerals contained within Rapid Flower that are needed by plants during their transition stage. One other benefit, it won't affect your pH so there are no worries about this important input variable when using Rapid Flower.
How to use Organic Rescue Mist – Rapid Flower?

The best part of Organic Rescue Mist is the Ready-To-Use aluminum bottle. It's made of durable aluminum and can last forever in a grow room. The sprayer is solid and works just fine (we've been using the same bottle for 8 months with no issues). You only have to mist your plants 1-2 times a week during the last two weeks of veg and the first week of flowering. That's it. Very simple instructions. A ready-to-use transition foliar spray for under $25 that will last you plenty of grow cycles sounds good to us. Furthermore, they make a concentrate that can be used in larger pump sprayers if you need to treat more plants. We love this bottle. It really looks great. Solid marketing from Organic Rescue with a fantastic looking product.
Benefits of Organic Rescue Rapid Flower…
R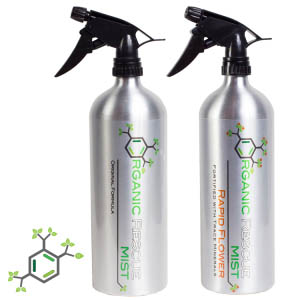 apid Flower is the perfect foliar for your plants transition stage. Grab a bottle of their Ready-To-Use foliar and you can begin misting your plants immediately. Not only will it provide your plants with essential trace minerals for your plants to explode into flower, but the high quality fulvic acid will also enhance the intake of whatever nutrient you are currently using. It is a win-win.
You may have a favorite nutrient line, but this should be your favorite foliar. No matter what nutrient line you're using, grab a bottle and use this as a foliar supplement during the next transition stage for your plants. You will not regret it. We will be using it with every. single. grow. from here on out.
Spend 15 minutes foliar feeding your plants once and you will never stop. Once we started looking into the science behind it and having warehouse conversations about various radioactive isotope tests and foliar feeding we knew we were hooked! I don't know why people knock foliar feeding because the science behind it is sound. Honestly, we were not big foliar feeders but the Rapid Flower changed our minds.
Other benefits of Rapid Flower…
1. Ease your plants transition from a vegetative to a flowering state
2. Increase amount of flowering sites and surface area of foliage
3. Helps plants in producing excess trichromes and sugars
4. Promotes tight nodes which produces thicker, denser flowers
5. Increases stem thickness for greater nutrient uptake
6. Decreases internodal stretching or spacing
We hope you give this product a try! We love it and highly recommend it. At under $25.00, you really can't go wrong. Also, you have to love a company that uses the Big Lebowski when promoting their products (from their Facebook)….the Dude Abides!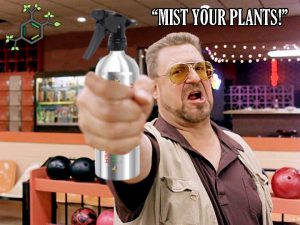 Thanks for reading!
-Web Hydroponics
foliar feed, foliar spray, fulvic acid, organic, organic rescue, organic rescue mist, orm rapid flower, rapid flower, trace minerals, wsda organic