Trimpro Plant Trimmers – What's the Difference?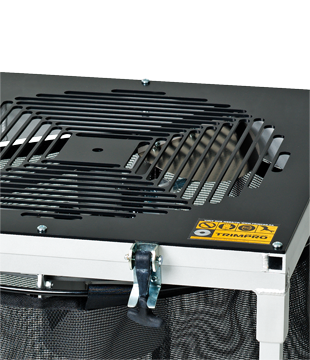 Harvest time is quickly approaching and if you're tired of hiring a trimmer, or you've spending countless time cutting and trimming your plants, look no further than the full and complete line of Trimpro flower trimmers for all your future indoor gardening needs.

Flower trimmers, also called leaf trimmers or trimming machines, have been on the market for quite some time and are extremely useful machines for cutting and trimming of plants. They're fast, extremely efficient and will greatly increase your indoor gardening productivity. They are used upon harvest of your plants to mechanically remove excess leaves and twigs quickly and efficiently. But Trimpro takes flower trimming to the next level…
WHY USE TRIMPRO?
If you're a serious grower or you are looking to make that next step, you don't want just any flower trimmer.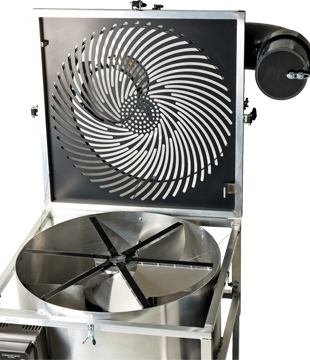 The Trimpro line is high-end state-of-the-art and will offer higher volume processing and efficiency than your run of the mill flower trimmer. The success of the Trimpro product line is based on the fact that they are simple, efficient and durable machines. When introduced they responded to a real market need as apart from scissors there were really no other products available to growers. By constantly improving upon the original model through innovation, they succeeded in building an excellent reputation, one which is the envy of their competitors. This is backed up by their excellent after sales service and warranty.
Trimpro has grown from a concept to an established company employing more than 20 people in their shop and offices. Proudly made in Canada, the Trimpro line of trimmers are simply the best on the market. Today, they have grown to the become the industry standard offering a wide range of plant trimmers ranging from the 7.5 pound Trimpro unplugged to the 162 pound Trimpro XL.
COMPARING Trimpro Plant Trimmers…
Trimpro Unplugged: This is Trimpro's quietest trimmer and is the most advanced and efficient power-free flower trimmer ever developed. Trimpro Unplugged is light and durable and is perfect if you're on the go and need mobility. It's ideal for an apartment, greenhouse or any situation where keeping quiet is essential. Trimpro Unplugged weighs just 7.5 pounds.
Trimpro Original: This classic model is effective and quiet with a tempered steel blade that allows for a clean cut without hurting the plant. It's equipped with a leaf recovery system and is easy to dismount and transport. Trimpro Original weighs 22 pounds.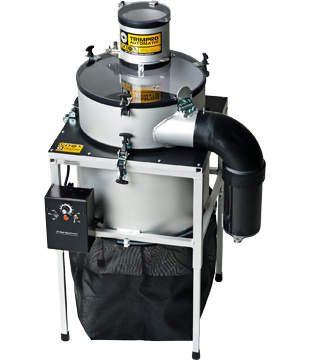 Trimpro Trimbox: This model is designed for smaller producers. It can easily be mounted to any workbench or table with the included brackets and clamps. Modeled using the same principles as the Trimpro Original, the Trimbox is lightweight, easy to set-up and use, and provides remarkable results. Simply take a branch and rotate/ move it over the grate for quick and impressive trimming!
Trimpro Rotor: This model will give you a complete finished product and can process between three and four pounds of wet material per hour. This employs leather fingers to circulate your flowers over a powder coated grill. The Trimpro Rotor comes with an enhance work table.
Trimpro Rotor XL: This model brings the quiet efficiency that was pioneered by the Trimpro Rotor model to high-volume producers who favor the rack drying technique. Control is optimized with finger and blade speeds individually variable, and adjustable height control for both the finger support arms and cutting head. This model is great for the grower who needs high powered efficiency for large harvests.
Trimpro Gasoline: Not everyone wants to do their flower trimming indoors, and this is the perfect product for outdoor gardening. Trimpro Gasoline works like your typical Trimpro except it comes with an adjustable speed, 4 stroke Honda engine so no electricity is required.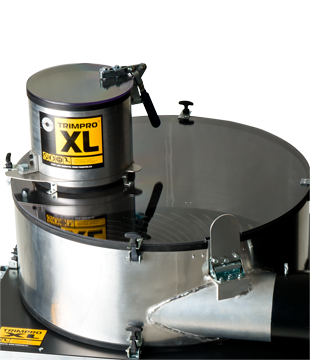 Trimpro Automatik: This top-of-the-line Trimpro trimmer will save you huge amounts of time and is packed with massive processing power. It's equipped with a powerful motor, four cutting places and a circular hermetic structure that creates a whirlwind effect. Trimpro Automatik weighs 75 pounds.
Trimpro XL: The king of the Trimpro line is for the most serious and large-scale growers. At 125 pounds, this is an oversized version of the Trimpro Automatik and has a greater capacity and productivity ratio five times superior to its predecessor.
-Web Hydroponics
bud trimming, flower trimmer, harvest, plant trimmer, trimpro, trimpro automatik, trimpro original, trimpro rotor, trimpro unplugged