Nutrient Notes: Vegamatrix by Kyle Kushman
Kyle Kushman, famous cultivator and writer, has developed a veganic nutrient like no other in Vegamatrix. In this blog post, we're going to explore what it's all about.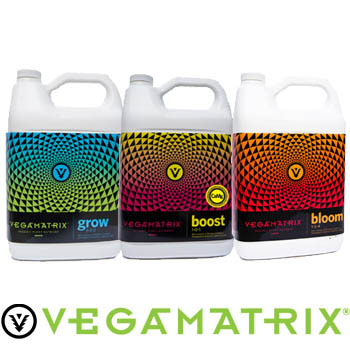 What is Veganics?
Veganics is a natural way to grow plants without the use of any animal products. As we continue to pollute our Earth, the animals we grow for profit are becoming contaminated with antibiotics, hormones and pesticides (do you know what's in the poop you're using to grow your plants?). Not to mention, there is also the frequent threat of our food supply by cross contamination of dangerous pathogens like e-coli and salmonella. Veganic cultivation is 100% safe and non-toxic for all living things.
What's in Vegamatrix?
Vegamatrix is 95% natural and organic. So what's in the other 5%? 2% is synthetic and 3% is mined minerals. The synthetics are simply Potassium Hydroxide as a solubilizing agent for kelp, some minerals and vitamins B1 and PP, all of which qualify for organic food production. That extra 5% is needed to make the products work well and preserve shelf life. On the label it says the product is 95% natural and organic. Even though Vegmatrix is listed as OMRI approved, they're not hiding behind an OMRI listing and disguising what is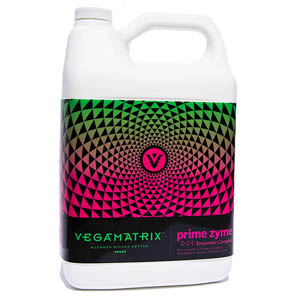 actually in their products unlike some other well-known nutrient lines.
What is Vegamatrix derived from?
Vegamatrix is derived from NON GMO soy and grain solubles which are fermented and homogenized. Plant extracts, rock phosphate, kelps, humic and fulvic acid complexes, essential aminos, macro-nutrients and vitamins complete the formula.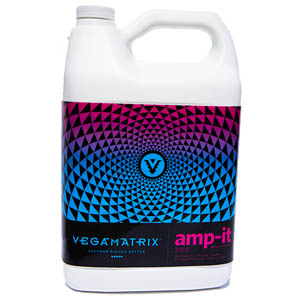 How did Vegamatrix get its start?
Kyle Kushman's team worked for 4 years to create a Veganic nutrient line that is easy-to-use and suitable for growers of any skill level. It's virtually non- burning and formulated so you can feed with every watering thus eliminating the guesswork to feed or not.
So what's in the line?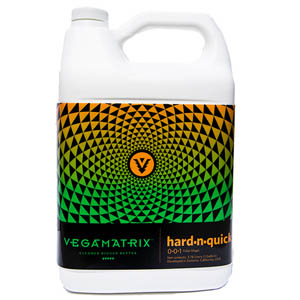 The base nutrients are a 3 part system – grow, bloom and boost (cal mag). The additives are Prime Zyme Enzymatic Complex which gives you your enzymes, helps keeps roots clean and catalyzes all your unused nutrients. Amp-It is their micronutrient supplement and Hard N Quick is their foliar spray. Hard N Quick contains the only EPA approved PGR. This natural PGR is derived from 2 types of kelp. It is made up of the best parts of the cytokinin and auxin action you get from kelp. It is a clear, odorless spray with an indefinite shelf life.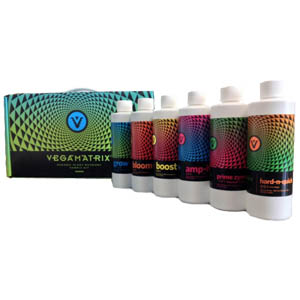 Web Hydroponics Verdict?
Vegamatrix is the real deal and the price is right for the results we've seen. Do a search on YouTube for Kyle Kushman or Vegamatrix (the YouTube pages are linked here) and see for yourself. It's easy to use and produces a very clean end product. When growing in coco, it's like a plant growing a plant in a plant medium! You can't get any cleaner than that! This line was voted the best new nutrient line by High Times in 2014 and is now tied to 20 CC wins. It's a very effective product and Kyle Kushman knows what he's doing with all the experience and expertise he has. If you want to grow top quality flowering plants, you should give Vegamatrix a try.
Thanks for reading!
-Web Hydroponics
ampit, bloom, boost, grow, hard n quick, kyle kushman, prime zyme, vegamatrix, veganic, veganix