Root Plus Cloning Gel for Healthy Roots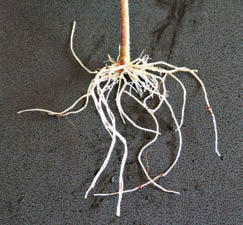 Cloning in hydroponics is a challenging task that even the most experienced growers can find confronting. It is a process where a cutting is taken from a mother plant and is re-planted to encourage new growth that features the same genetics as the original plant. This process can prove challenging when looking to grow a large yield of crops, although with unique plant cloning techniques it is now possible to increase successful stem growth using Root Plus Cloning Gel.
How Root Plus Cloning Gel Works
Root Plus is a specially formulated cloning gel that features a balanced combination of amino acids, growth hormones (IBA), an organic antiseptic, and B1 vitamins. Branded by Nutri-Plus and manufactured by Floracorp, it is designed to help heal the cut stem and accelerate root cell development. Specially made for softwood plants it provides the proper blend of nutrients required to not only increase plant health, but to decrease stress. This root gel is able to protect the stem from contamination with its organic antiseptic mixture, and can increase results when used in combination with Nutri-Plus Start.
Plant Cloning Techniques: #1 Caring For the Mother Plant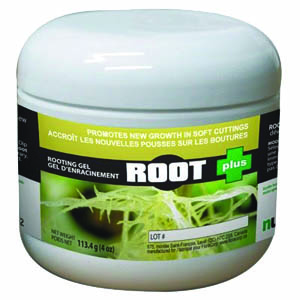 To maximize the efficiency of the root gel and ensure success in your plant cloning technique, it is important to make sure your hydroponic system is properly maintained and all factors are taken into consideration. "When considering cloning", it is important to make sure the mother plant is well taken care of before and after cutting. Proper nutrient supplements, lighting, and moisture can increase the mother plants' health before the cutting process, thus increasing stem health and vitality of the cutting when the cloning begins. Try to avoid cutting from a sickly or weak mother plant as this will cause a decrease in the success rate of the cloning process. Making the leaves moist can also help to increase plant and stem growth. Simple spray bottles or a spraying system can help improve the conditions of your system, and help cuttings to take root within their new environment.
Plant Cloning Techniques: #2 Eliminating Stress
Stress is another main cause for failure during the cloning process. When a stem is cut from the mother plant it is already exposed to increased levels of stress. This stress can compound and cause complications with root growth resulting in stem death and cloning failure. The second plant cloning technique that can be considered is to reduce stress levels with B1 Vitamin supplements to help decrease the compounding stress a stem is exposed to. Carbohydrate supplements are also suggested to help increase stem root growth by supplying the plant with additional energy for re-growth.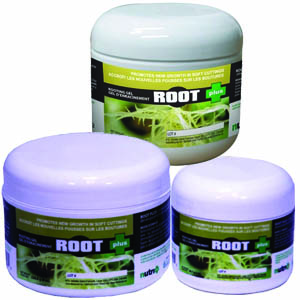 Whether you're an experienced grower or just a hobbyist, using Root Plus can really enhance the cloning process in Hydroponic garden systems. This root gel is available in convenient containers and is readily available for immediate use. Nutri-Plus Root Plus works just as well as any other clone gel on the market and it's a couple bucks cheaper than most other cloning gels without sacrificing quality of product. We've used it and it works just as well as the other big name brands. We'd recommend Root Plus for anyone about to start the cloning process.
-Web Hydroponics