Nutri Plus Nutrients: The Essentials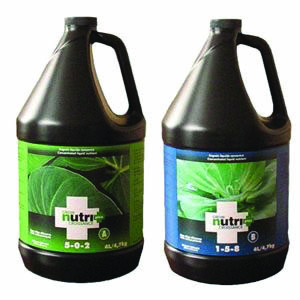 Nutri-Plus Grow/Bloom: The most Concentrated Two-Part Hydroponic Plant Nutrient on the Market!
As an enthusiastic hydroponic gardener, it would be amazing if I could snap my fingers or wave a magic wand and create the most concentrated and well balanced plant nutrient program to feed my crops. This magic formula would contain the perfect balance of macro and micro nutrients; it would be rich in calcium and provide hundreds of essential minerals; all in a form that is super clean and pure – with RO water – in order to be easily absorbed by my plants. If this plant nutrient program could guarantee outstanding results at a minimum cost and was developed by a team of distinguished chemists and agronomists from Quebec, this formula would be known as Nutri-Plus.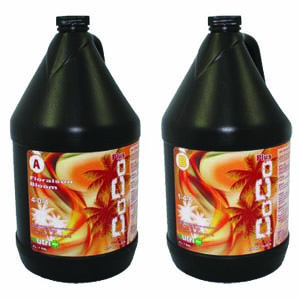 Nutri-Plus is a Complete and Effective Hydroponic Plant Nutrition Program
Nutri-Plus is widely recognized as the most trusted hydroponic plant nutrient fertilizer in Eastern Canada for the past 20 years. This program includes a variety of unique and powerful foliar additives, the highest grade humic and fulvic acid available today and several super-charged bloom boosters in addition to the most concentrated, two-part, plant-specific recipe on the market. The team at Biofloral (North American distributors of Nutri-Plus) recommends using 4 ml per gallon of the Grow A and B and 8 ml per gallon of the Bloom A and B, but they caution that less is more and all new users should start with a lower dose until they get a feel for what Nutri-Plus can do for their plants. The base nutrients from Nutri-Plus are made from reverse osmosis water assuring a reliable and quality product. By respecting rigorous manufacturing standards, their fertilizers contain fewer contaminants than the competitive brands. It is a fertilizer without electroconductivity that is chlorine free. The formula used in Grow/Bloom by Nutri-Plus is rich in calcium and magnesium, which are necessary for the production of healthy roots, the enhancement of the immune system and the production of chlorophyll.
Start with Nutri-Plus Grow AB, Bloom AB, and Thrive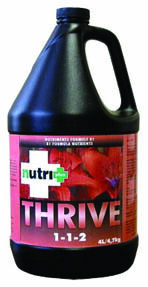 In addition to using the highly concentrated Nutri-Plus ABs as the foundation of your plant nutrient solution, the team of experts at Biofloral recommends use of 12 ml per gallon of Nutri-Plus Thrive (1-1-2) through all of grow and reduced dosages through early bloom. Thrive is an advanced plant nutrient with B1 vitamins and powerful high-quality seaweed extracts. This product is outstanding for reducing shock that is common in transplant of young cuttings from propagation to grow and it is essential in alleviating the plant stress that is inevitable in transition from grow to flower. The powerful seaweed extract in Thrive delivers a highly concentrated dose of rich deep-sea minerals, organic acids and hormones that work wonders on your crops. In conjunction with Nutri-Plus ABs complete and balanced formula, Thrive increases plant resistance to stress, stimulates root development and strengthens the plants immune system.
Nutri-Plus is as good as any nutrient line on the market. We've used it for a long time and love it. It's been used by our friends in Eastern Canada for over 20 years. If you want a nutrient that's been around for a while and kept a solid reputation for being effective and available at an affordable price, then the answer is Nutri-Plus. Big name brands equal big prices. Save your money and get big results using Nutri-Plus.
-Web Hydroponics
AB, base nutes, coco, hydroponics, nutri+, nutrients, thrive