CX Hydroponics Head Masta Higher Quality Yields
A high yield is important in indoor gardening, but you also want high quality no matter how much you yield. CX Hydroponics Head Masta can deliver that need. A high quality yield can be very elusive and when a yield is increased by mediocre products your plants will have higher water content, larger cells, thinner cell walls and lower desirable solids, diluting the quality of your plant and giving you a lower quality end product. Various environmental and physical ailments can reduce the quality of your grow. Many growers get high quality at the expense of high yields or vice versa and it's uncommon to get both a high yield and high quality. Head Masta, the most popular and best-selling bloom booster and enhancer in the UK, can solve your problem and give you both.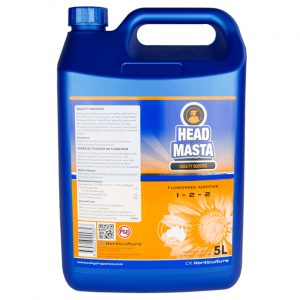 What is in CX Hydroponics Head Masta?
It contains essential organic acids, silicates, proteins and naturally occurring plant hormones for your indoor garden. Head Masta stimulates plants to produce more essential resins and oils and at the same time produce an increase in yield. Head Masta does not contain PGRs! It just works so well that people think it contains PGRs. In fact, Head Masta is an unregistered organic product. From what we hear, CX Hydroponics is planning on registering Head Masta as an organic product in 2017.

How does CX Hydroponics Head Masta work?
Head Masta increases the quality of your yield by stressing the plant to think it's going to die. When a plant thinks its dying it throws its energy into production increasing resins and oils. Don't worry, this is done slowly over time so your plant isn't too stressed. You'll want use Head Masta early in your indoor gardening process so it accumulates around the roots and causes the plant to go into a stress situation. You'll notice an increased yield but you'll really see a real difference in the quality of your yield.
How does Temperature Differential affect Head Masta?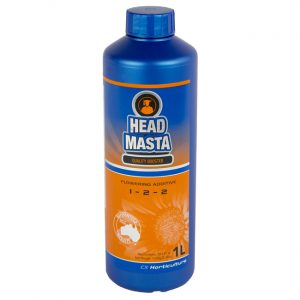 Temperature differential is essential for a high quality yield. Night temperature should typically be 10 to 20 degrees Fahrenheit lower than your day temperature. If your indoor garden has the same temperature during the day (when the lights are on) and at night (when the lights are off), or night temperatures are higher than day temperatures, your quality will falter. Head Masta stimulates your plant so it overcomes this problem. It provides the balance that otherwise isn't naturally occurring.
What should I know about CX Hydroponics Head Masta and my water?
If you're a grower you should know that the right water balance is essential for your plants. While a water shortage is much dangerous than excess water, excess water upsets the plants internal osmotic balance which damages the quality of your end product. Head Masta can overcome this and restore the proper ratio of solids to water.
Here's another video by CX Hydroponics explaining Head Masta…
Head Masta is one of the best selling supplements from the CX Hydroponics line, and that's because the science behind it is sound and it works really well. No bells and whistles, just a quality bloom booster that will give you a noticeable difference. Bloom Enhancers are one of the most popular additives used by growers, and Head Masta definitely deserves a go on one of your plants in your next cycle.
-Web Hydroponics
bloom booster, bloom enhancer, cx hydroponics, head masta, hydroponics