Nutrient Notes: CX Hydroponics Regenaroot
The above video is Mike Biggs, Agronomist at CX Hydroponics, explaining the benefits of Regenaroot. Plant roots are the foundation of a healthy plant and a high yield. Without a solid root system you will never maximize your plants' potential. But of all the processes in your indoor grow room, the root systems are often the most overlooked because they're not something you regularly see. Reasons such as this are why it's crucial to use CX Hydroponics Regen-a-Root, a one-of-a-kind root stimulator and the best selling CX Hydroponics additive that has been on the market for 16 years.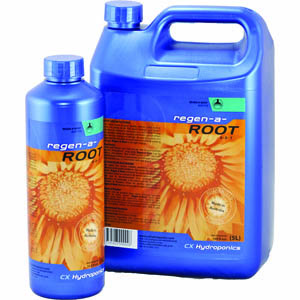 Root Care is Key…
A number of organisms can completely wreck your root system to the point where you don't get a yield. Diseases like Pythium, Rhizoctonia and Phytophtora will feast on your plants root, changing the colors of your leaves as they begin to wilt. Even if your yield remains intact you might unknowingly have a subpar root system that will result in a mediocre yield. Regen-a-root is a root stimulator that will produce a root system that can easily support big yields in your indoor garden.
How Does Regenaroot Work?

Regenaroot works by inducing the plant to produce its own hormones that will produce roots. It's important to use Regenaroot through every stage in your indoor gardening grow because you'll wind up with a massive root system that otherwise would have been impossible. Typically, during the bloom cycle, the plants stop growing roots. This slows the nutrient uptake and allows root disease to gain entry. If you use Regenaroot throughout the bloom cycle you'll have plants that are healthy, vigorous and strong. While this will not guarantee a massive yield, you are guaranteed not to have a massive yield if you don't treat your roots properly with Regenaroot.
History of Regenaroot…
CX Hydroponics Regenaroot came on the market 16 years ago in response to problems growers were having in keeping their root systems healthy when plants were flowering. Developed by the CX Hydroponics Agronomist with 30 years of horticultural experience in production and consultation, it is the key to a healthy root system throughout your plants life cycle. It's helped thousands of growers maintain healthy root systems on their plants. A healthy root system absorbs the maximum plant nutrients which allows for maximum growth. If you want to keep your roots growing and keep stop root disease from gaining entry, Regen-a-Root is the best value root stimulator on the market.
Regenaroot comes in 1 liter bottles, but it's more cost efficient to purchase the 5 liter bottle for your indoor gardening needs. Regen-a-Root is non-biological, clean and a must have product for your indoor grow room.
Regenaroot is easily one of the best root stimulators we've ever used. We recommend using it as instructed, throughout the entire life of the plant to produce and maintain a healthy, disease-free root system.
-Web Hydroponics
cx hydroponics, hydroponics, nutrients, pythium, regen-a-root, root stimulator, root systems